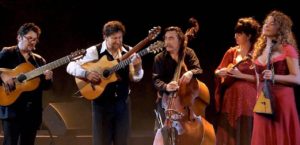 Starting from a repertoire of splendid Russian songs and romances, the heritage of which Natasha Fialkovsky, daughter of a Russian immigrant, received from childhood the teaching, the group Natacha & Nuits de Princes, does not lose sight of this initial emotional climate, while evolving step by step to adaptations or creations of songs written by the sweet Natasha, and arranged or composed with an easy talent by the guitarist and artistic director of the group, Olivier Cahours. His generous arrangements give each instrument complementary timbres: balalaika and Russian domra, classical guitar double bass and steel string guitar – the opportunity to find their natural place and develop their singular and sweet registers. Over the years, Natacha & Nuits de Princes settled in the maturity of an identifiable group sound, something not so common. Perhaps there is as much friendship as musicality. A beautiful acoustic sound of stringed instruments that, with Natacha's simple, enveloping voice, is able to express a tone of tenderness, childhood, melancholy, gravity, humor and swing but also calm and lightness. These five delicate and virtuoso musicians never forget that they owe this happiness of play, certainly to their classical or jazzistic formation, but also to this precious source of the reference Slavic songs, passionately sentimental. So, what happens during a concert of Natacha & Nuits de Princes? Well ! We are here. Quite simply. Present and in love.
Bernard Davois
Natacha Fialkovsky : Lead vocals and balalaïka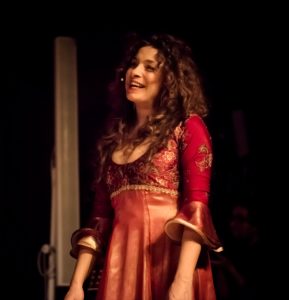 Everything begins when the young Natacha, a singer in the famous Balalaïka cabaret by Marc de Loutchek, decides to found a group that takes as her name the title of the very colorful novel by Joseph Kessel Nuits de Princes recounting the crazy nights of Russian cabarets in Paris in the 1920s If the name of the group is obvious, finding partners is less easy because Natacha wants both to keep this musicality and sentimental atmosphere so well described by Kessel, while bringing as a translation, something different , To inject new blood, to mix the cultures while keeping its roots. It was not until the year 1999 that the music adventure, now known as Natacha & Nuits de Princes, was shared with the musicians. Natacha then started to write songs in collaboration with Olivier Cahours who composed the music, or to adapt unknown Russian songs revisited by arrangements and an original orchestration without betraying the spirit.
From a family of white Russians, Natacha is also passionate about music since childhood. After studying Balalaika at the Rachmaninov Conservatory in Paris, she performed with the most well-known Slavonic ensembles: Bratsch, Cabaret Rasputin, Ivan Rebroff, Marc de Loutchek, Gypsy Choir Kazansky, Balalaikas Saint George Orchestra, Kalina (traditional songs with capella) and participates in many recordings for Gallimard jeunesse alongside Bernard Davois …
---
Olivier Cahours : Guitar, arrangements and compositions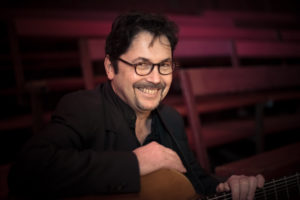 Originally a jazz musician, but playing on a classical guitar, Olivier Cahours writes "tailor-made" melodies for Natacha & Nuits de Princes. He succeeds ingeniously in putting each instrument in value and in releasing the sound of the group. Composer, interpreter and arranger, it is also for his own formations (Solo, Duo, Trio and On the Road). Olivier Cahours is the guest of many festivals: Paris floral park, Flâneries de Reims, Grenoble Jazz Festival, Jazz in Touraine, Pau Masters … He played with Jean-François Jenny Clark, Eric Barret, Peter King, Bertrand Renaudin , Enrico Rava, Palle Danielson, Sharon Evans …
---
Pascal Storch : Guitar, vocals, cavaquinho, cajon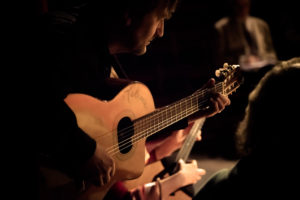 Originally Russian, Polish, Romanian and … French, Pascal first studied classical and Brazilian guitar then founded the Brazilian band Parioca. He then joins Joao Bosco, The Stars, Roland Dyens and Tonino Ramos …. Following a fortuitous encounter with Natacha who embarked first in the Kazansky Choir, then in the Natacha & Nuits de Princes group, then finally in the show "Nuits de Montmartre" reading in music on texts by Joseph Kessel, he Is definitely turning towards the music of the East. He also plays in Judeo-Spanish music formations and Klezmer with Yankélé, Marlène Samoun and Eve Grumer. It offers the group the fruit of all these experiences.
---
Natalia Trocina : Domra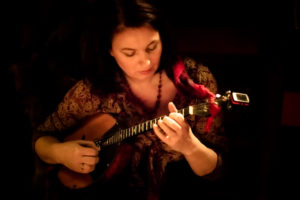 Born in Obnisk, Natalia began like all Russian little girls to study the domra at 7 years at the conservatory. At the age of 15, she joined the prestigious Gnessine Conservatory in Moscow. After graduating, she became the winner of the Russian traditional music competitions in Moscow, Kaluga, Novosibirsk. She then returned to Obninsk, her hometown to teach the domra at the conservatory and play in the traditional instrument orchestra of the city. Arriving in France, she quickly joined the orchestra of Rasputin, The Orchestra of Balalaikas Saint George, then Natacha & Nights of Princes.
---
Thierry Colson : doublebass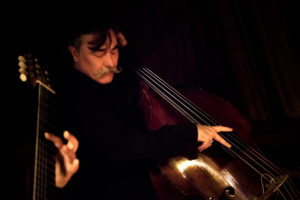 A jazz musician, Olivier Cahours' accomplice since childhood, he soon found himself with Natacha & Nuits de Princes. Thierry Colson played with Daniel Mille, Glenn Ferris, François Cotineau, Bertrand Renaudin, Enrico Rava, Jean-Pierre Charles, Hozan Yamamoto and Pierre-Yves Sorin with Jean-François Jenny Clarck and Thierry Barbé. Artists at the Nice Jazz Festival, Mulhouse Festival, Flâneries de Reims … He also participates in musical performances for children including the famous Jazzy Joe and the Petit Pois and, more recently, François Morel's recital.
---
Discography
– Gamayun (Inouïe Distribution)
– Comment tu t'appelles (Milan Records)
– Tant que la Terre Tourne  (Night & Day/Milan Records)
– Rêve sur deux guitares
Natacha et Nuits de Princes won the Bruno Coquatrix 2007 award.
Concerts
Paris ans surroundings

New Morning, L'Européen, Le Zèbre de Belleville (première partie de Césaria Evora), Theâtre National de Chaillot , Théâtre du Gymnase (Festival Bonne Nouvelle sur les Boulevards), Cirque Romanès, Festival « Soirs d'été » Mairie du 3ème arrondissement, Théâtre de la Renaissance, Théâtre 13, Vingtième Théâtre, Théâtre du Ranelagh, Sudden Théâtre, Ciné 13 Théâtre, Théâtre du Renard, Théâtre du petit Hébertot, Théâtre Montansier à Versailles, Espace Charles Vanel à Lagny, Palais des sports de Levallois, Théâtre Les Déchargeurs, Théâtre du Campagnol, Cabaret Sauvage, Le Studio de l'Ermitage, La Ferme du Buisson pour la campagne des « Colibris », en résidence, puis en concert, « Musique au Comptoir » de Fontenay sous bois, Le Divan du Monde, Le Réservoir, Satellit' Café, Opus Café, Duc des Lombards, Glaz'Art, Les Arènes de Montmartre, Festival Onz' Bouge, Festival Paris Macadam, Le Musée des arts Forains, L'Entrepôt, Blue Note, Musiques au Comptoir de Fontenay sous bois, L'auberge de Sivry et autres Guinguettes Pirates.
Outside paris

Le Trident à Cherbourg, Festival  « A Toutes Voix » de Trouville, Moulin d'Andé, Un été à Bourges, Estivales en Anjou, Abbaye de Solignac, l'Orange Bleue (première partie des Yeux noirs), Théâtre St Louis à Pau, Salle Jean Hoveg de Vendenheim, La Passerelle à Mauléon, Les Tanzmatten à Sélestat, Festival des Loges, Festival de la Contemplation de Tauxigny (la nuit des étoiles), Maison pour Tous à Beaucourt, Le Mas du Mée sur seine, Festival « Guitares du Monde » à St André les vergers, Journée du Patrimoine à Lognes, Poilly lez Giens, Château les Châteliers à Paulmy, Festival international « Cordes et Pics » au Karellis, Salle Lucien Sallée de Serres, Arts scènes à Boussac, « Quai des arts » à Vibraye, Salle René Duby à Eguilles, Festival Depayz'art à Monceaux les Meaux, Festival en pays Briare, St Léonard, les concerts classiques d'Epinal…
Worldwide
Jazz Festival de Koktebel en Ukraine. Palais des congrès de Kiev, Palais de Kalouga à Moscou.
Radios
France-Culture (Etonnants voyageurs à St Malo), France Musique (les enfants de la musique), France-Inter (Le fou du roi, Sur le pont les artistes, Sous les étoiles, (en Play-list), Fip (Play list), Europe 1 (direct), Chérie Fm (play list), Radio Bleue (play list), Radio Nova (direct), Aligre (direct).
filmography
Kiss & Kill
Romantic comedy by Robert Luketic, with Ashton Kutcher, Katherine Heigl and Tom Selleck released in France in June 2010 (at the OO)
Hell
Dramatic comedy by Bruno Chiche with Sarah Forestier. Released in March 2006. (on screen and at the OO)
Laughter and Punishment
A popular comedy directed by Isabelle Doval, with José Garcia. Distributed by Luc Besson. Released in January 2003, the group appears on the screen, participates in the B. O. of the film and the end credits.
Zapoï
Short film by Vladimir Tchernine with Edouard Baer. First cinematographic experience of the group in its first version (with Bernard Davois and Sergey Fedorov).
---
Corporate
Nous avons animés des soirées de …
France Télécom, Croisière Figaro, Fusée Ariane, caviar Kaspia, Badrutt's Palace Hôtel de St Moritz, Salon Hoche de Paris, Musée des Arts Forains, Musée du Louvre, Musée d'Orsay, Ecole des Beaux Arts, restaurant de la tour Montparnasse, Starter plus, Hôtel Bristol, Pavillon dauphine, Aeroflot etc..
---
Press review
– The flaming Natacha Fialkovsky and her quintet warm the Parisian steppes with their aristocratic bohemia, a mixture of Russian romances and Gypsy tunes, Slavic lullabies and Swing gipsy, sometimes crossed by French chanson. The new album is called Gamayun, named after a mythological bird whose feathers of fire spread out here on a dense string carpet (domra, double bass, guitars and balalaika).
Anne Berthod (fff Télérama)
– "Natacha is of the stamp of these women whose voice sings the soul of a whole people … Our own … It is of the race of Cesaria Evora, Amalia Rodrigues, Elis Regina and of course Valia Dimitrievitch.
Supported by a group of outstanding musicians, his voice, a clever mixture of violence and sensuality, is in line with that of the great blues and flamenco singers.
At a time when favorites are rare, a "Night of Prince" is essential. And who knows if, carpet somewhere in the room, will not hide a certain Joseph Kessel. Who knows… "
Jean Pierre Brun (manager of the late Nougaro)
– Time freezes
In a grave and deep voice, sometimes sensual and soft, she approaches with ease rhythms that mix gipsy and jazz songs. In French, English, Russian, Romanian, Serbian or Portuguese, she crosses borders with melancholy, for "my country is a chimera without borders," she said.
Accompanied remarkably by her musicians, she explores in an astonishing and unexpected way, musical registers that combine jazz, flamenco, bossa-nova the purest gypsy music. The rhythm rises on frantic and incandescent cadences, taking an amazing amount with the dance in a thousand colors of the dancers of Arman Vossougui. Together they propose an unusual trip that marries deep Russia to Brazil, Spain and France! For a few hours, time stands still because "nothing presses, until morning".
To the rhythm of balalaikas, guitars, percussions and double bass, Natacha brings her audience to distant countries, interpreting, with tenderness and nostalgia, stories of love, passion or hate. Reflecting the Gypsy soul, feeling knows no half measure: the intensity motivates each note, each chord and each movement of the dancers.
More than a show, the Natacha and Nuits des Princes concert is a demonstration of sensuality, melancholy and passion, which paints the Slav soul with multiple colors, revealing to the world its wild and tender side.
Iuliana Salzani-Cantor Dernières Nouvelles d'Alsace
Natacha et ses Nuits de Princes
– Colorful musical paintings and sensual strolls in the heart of Eastern European music.
Natacha's voice has a particular tessitura that resonates like a rustle of skin, a caress, melodious, disturbing.
It takes us to countries of sunshine, wild life, passions barely veiled, impregnated with Roma and Gypsy culture.
To the mystery of strange languages ​​with carnal consonances is added its natural restraint. All the emotional power it gives us in a contained motion, a reflection of a modest, abundant and dreamlike interior landscape.
Like the sea, it moves, in a contagious sensoriality, from the quivering ripple of soft waves to the foam of the rollers, which carry everything in their path.
She dances and sings as one evokes a magical universe, as a magician, as a storyteller. Body extends an inner dream, an unconscious nostalgia. Expression of a contained interiority.
It expresses a musical and spatial space, visual melodies, choreographies, festive ballads, loving embraces. Sustained by a chiseled orchestration, with clear and clear sounds, she sings and suddenly, parades musical scenes, moments of life, a series of scenes with precise contours, war love, nostalgia passion. Between melancholy and joy, between regret and gravity, it borders on multiple and poetic spaces of life.
In his voice vibrate the air and the earth, the dust of the steppes, Bosnia, the Balkans, the films of Kusturica are not far. A wide variety of cultures invade us, taking us on a journey into the heart of neighboring countries and yet on the other side of our mirror.
A country of music, freedom, festivals and paradises lost.
Edith Herlemont- Lassiat, critique d'art – exporevue
From Russia to Hungary through the Balkans, this sextet, borne by the velvet voice of Natacha Fialkovsky, offers a fascinating journey through the gypsy musical diversity. An invitation under the sounds of balalaikas and jazz.
LE MONDE
– Taken by the beautiful and captivating singer Natacha Fialkovsky, this group plays an abundant repertoire of Russian songs and romances, enriched with jazzy, manouche and Brazilian sounds. To discover in their new album baptized "Comment tu t'appelles?". Inventive and energetic. A.G.
FIGAROSCOPE
– An enchanting mixture of gypsy melodies and jazz and Latin influences
ZURBAN
– Natacha is a beautiful artist with a warm and spellbinding voice inspired by Slavic melodies mixed with Brazilian accents of Latin rhythms accompanied by excellent musicians. Get drunk with these musical perfumes.
PARISCOPE
– A royal moment with the orchestra surrounding the fatal Natacha Fialkovsky. The magic of the Gypsy songs with the two guitars of Pascal Storch and Olivier Cahours.
Rémy Kolpa Kopoul NOVA
– What a treat ! Natacha Fialkovsky, sparkling eyes and long chestnut mane, led the audience to Eastern Europe, interpreting songs that invite to freedom and travel, beautifully accompanied by influential music, with its beautiful warm and sensual voice Gypsy, Brazilian or jazz.
La Nouvelle République du Centre Ouest
– To the rhythm of the balalaikas, the guitars, and the double bass, Natacha sings in a soft and warm voice. The Russian romances, Gypsy tunes and songs in French are revisited by an inventive and pertinent accompaniment: The guitars become in turn Brazilian, manouches. Between Enzo Enzo and Bratsch, Russian and Gypsy music find, with Natacha and Nuits de Princes, a freshness and an ingenious ambassador.
Arnaud Toulier, Médiathèque de Paris
– The music of Natacha and her princely musicians moved away from folklore to propose subtle reorchestrations; So the Slavic melodies are dominated by the Brazilian accents of Pascal Storch's cavaquinho, enigmatic Latino rhythms, the subtle jazzy touches of guitarist Olivier Cahours, the talented composer of this album ….
Guitarist Acoustic
It was the "Russian" New Year. In the room full to burst, interjections and laughter, movement, hugs, running children, photographers who demand passage. The kind of atmosphere I like in a theater.
The two women appear in autumn-colored dresses, half gypsy half-faced Shakespeareans. Assisi, Natalia Trocina plays on her domra like we caress a kitten. Standing up, Natacha Fialkovsky, her hair raised in a Roman matron bun with drooping curls, reminds us that the balalaïka is a unique instrument whose sound is incomparable. In the hands of a woman, this instrument sings in a way that is not usual, especially here, in Western Europe.
Natacha places her instrument and sings. Natacha sings like no one with a voice that she modulates perfectly in all registers. This child of emigrants pronounces Russian as "those of there" is overwhelming.
Then place is given to the musicians. Natacha goes to sit at the edge of the stage and … we are in front of a picture of a museum: against the light of a projector, her costume, her posture, her half-naked arms and her hairstyle, her Immobility also impose a fixation point which would almost prevent us from watching those who play.
Pascal Storch, with his guitar with two sleeves (a curiosity whose name I do not know) is the water that flows and cascades like the sound of the drum on which he sometimes chants the slow rhythm of the song in which he participates.
Thierry Colson, on the double bass, blows the sounds like the wind in the branches or in the sub-slopes of the houses. Such a lightness on such a large caisson, twirling fingers and a bow that meanders like the bird in the windy sky.
Then came Olivier Cahours, the fire, the flaming logs, the crackling embers, the hands running like sparks, a sound now light and sometimes disturbing, a striking mastery of all musical genres at once.
Women, of course, are the land. The domist, often seated as in front of the hearth, clings to the roots of the scene and to the sound branches of her instrument, she sings the earth and the men, the fruits and the women. His eyes see everything, his hands follow with astonishing flexibility the variations and caprices of the motley melodies that the three men raise.
Natacha, the matron so young and beautiful, walks the planks with the grace of an avocet. His hands turn and twirl, his arms make you want to snuggle in, his feet sketching a few dance steps virtually raise the dust of the paths of the exiles.
In the second part, Natacha untied her hair, young woman "so Russian"! She makes us winks, sings and plays like we have fun in a playground. The musicians give themselves to heart-joy of melodies sometimes gypsy jazz and sometimes I know not what; Olivier is unleashed in the crackle and sobs of a music that makes me spring out of known borders. How happy I am to be there!
Then, surprise: Natacha "made" a poem of Pushkin with perfectly chiseled lace on a background of bossa nova.
The shawl, with which she played part of the show, is placed on her shoulders and it is the end, the artists leave. Then they come back for a last song, a last collective joy for this evening from which a new year will begin.
Tatiana Pruzan.